Power lines provide all-important energy to homes, businesses, and industries. Keeping that power flowing is an electrical lineworker who installs, repairs, and maintains this intricate network.
We've all seen these workers up high in the air, leaning out of a bucket truck, but what does a lineworker actually do?
Job Description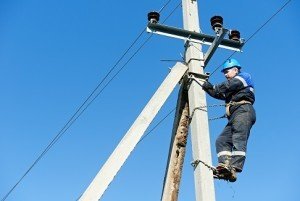 Electric lineworkers may get to the top of an electric pole or structure on a bucket truck, but they must also have the physical ability to climb electric poles or towers. Safety equipment and training are in place for these workers, but they are exposed to the dangers of not only working in inclement weather at great heights, but from the high-voltage electricity itself. Some lineworkers install and repair what is known as the "grid," or the distribution lines through which electricity moves from the generating plant to the customers. Others work for local utility companies and install and maintain existing lines, as well as transformers, street and traffic lights, switches and voltage regulators. The electrical lineworkers also replace old equipment or install new lines in home developments, and respond to emergency situations to restore power lost in a storm or accident.
Education
Applicants may enter this field with a high school diploma, but employers look for graduates with STEM skills of algebra and trigonometry. A two-year associate degree in electronics, fiber optics, or electricity gives applicants an edge. Those who gained technical knowledge in the field through vocational programs or military services may also be qualified. All electrical lineworkers must go through an apprenticeship or training in both classroom and on the job for four to five years. Unions representing these workers may assist with the training in cooperation with employers. Certification is not required, but is available in specialty areas. Electric lineworkers who drive large trucks for their company may also need a commercial driver's license.
Wages
The average annual salary earned by an electric lineworker is $61,430. The Normal business hours are worked on a full-time basis, but workers are required to report on evenings and weekends when necessary to respond to power outages. A severe storm may require electric lineworkers to be on the job until the power is restored. A large number of workers belong to a union and pay membership dues.
Job Opportunities
A seven-percent growth is expected through 2022 for employment of electric line installers and repairers. Population growth and construction of new home developments and business complexes guarantee the installation of new electric power lines to service those residences and companies with electric power. Continued maintenance also guarantees the need for more workers.
The challenge of joining a team to provide electrical energy safely and reliably invites STEM students to build on their math and science skills to be successful as an electric lineworker.