STEM Jobs Approved: Devon Energy Corporation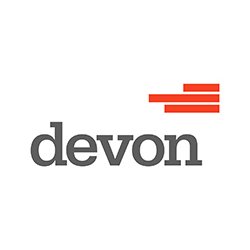 Devon Energy Corporation is a leading independent oil and natural gas exploration and production company. Devon's operations are focused onshore in the United States and Canada. Devon is a results-oriented company that builds value for shareholders through its employees by creating a culture of health, safety and environmental stewardship in an atmosphere of optimism, teamwork, creativity and resourcefulness and by dealing with everyone in an open and ethical manner.
Website:
http://www.devonenergy.com/
Learn more about Energy

The energy industry is a six-trillion dollar global industry and the third largest industry in the United States.
Learn more
STEM Jobs Approved Ranking
Ranking within Energy Industry
STEM Jobs Approved Categories
SJA Diversity

SJA STEM Opportunity