While stories of hidden women of color in STEM are beginning to come to light, both women and people of color are still underrepresented in STEM fields.
While "Hidden Figures: the American Dream and the Untold Story of the Black Women Mathematicians Who Helped Win the Space Race" by Margot Lee Shetterly remains in the number one position on The New York Times Best Sellers' Paperback Nonfiction list, students still are not taught about these extraordinary innovators in STEM classes at school. Learn about these hidden women of color in STEM and ask your teachers to expand upon these stories in class.
Hidden in Plain Sight
Tracing its roots back before the time of World War II, the role of the group of human computers at what was known as NACA (National Advisory Committee for Aeronautics) included compiling and gathering data. This detailed work was reserved for the human computers, which comprised only women, to provide more time to the male engineers who were required to investigate flight research. According to NASA Chief Historian, Dr. Bill Barry, NACA's  need for qualified computers continued to expand, creating a need for the organization to open its doors to women of color.
"Human computers played a critical role in NACA and NASA research from 1935 until the early 1970s. NACA hired the first group of human computers (all women, as was the tradition in that field of work) in 1935 to relieve the burden of data gathering, collation and computation from the increasingly busy engineers working on flight research. This 'experiment' worked so well that the human computing workforce was expanded as the NACA grew rapidly in the run-up to World War II. Due to continuing staff shortages during the War, African-American women were recruited for this work starting in 1943."
While the hidden women of color in STEM arrived nearly a decade after NACA decided to employ female computers, their contributions, as outlined in "Hidden Figures," were invaluable to the flight and subsequent space programs. As NACA became NASA (National Aeronautics and Space Administration) and the needs of the organization shifted, Barry notes that these women not only continued to work after men returned from the war, which was unusual in other industries, but human computers shifted with the changing technological tide and channeled their STEM aptitude to become programmers.
For the Love of Country – and STEM
Similar to the hidden women of color in STEM, today's young students continue to discover a love of concepts that could lead to extraordinary advancements and breakthroughs. These hidden women of color in STEM who were members of the West Computing group, which comprised only black women, had once been children who loved studying these challenging subjects.
There was Katherine Johnson, once an adolescent math savant who entered West Virginia State College at the age of 15 on a full academic scholarship. Dorothy Vaughan had been an incredibly bright student whose advanced reading abilities allowed her to move ahead two grades upon entering school. During her college years, Mary Jackson pursued studies of a double major in mathematics and physical science, later channeling this tenacity to successfully fight Virginia's segregation laws to pursue engineering courses that were open only to white students. Before they were hidden women of color in STEM, they were extraordinary, intelligent students of science and math.
Inspiring Future STEM Leaders
As the stories of these women are being told to a larger audience, students want to know more about the hidden women of color in STEM who transcended restrictive, racist laws and broke through the glass ceiling. While "Hidden Figures" screenwriter Allison Schroeder's personal connections to NASA, as a former resident of the Space Coast and student of NASA's NURTURE Program, inspired her to actively pursue a position working on the screen adaptation of Shetterly's book, she also wanted to reveal the sisterhood and collaborative spirit between these hidden women of color in STEM.
"When I read the book proposal for 'Hidden Figures,' I immediately called my manager and told him I wanted to write this script – not only to bring these women's accomplishments in math and science to light, but also show how much they supported each other."
When learning about STEM history in class, don't be afraid to approach your teacher and ask him or her to include more stories about hidden women of color in STEM whose work impacted the sciences through groundbreaking innovation.
"I think STEM often gets pushed to the background as the stories focus on those in the spotlight: astronauts, pilots, politicians, public figureheads," says Schroeder. "When we show the power of these technological advances – how they've shaped history – math and science become exciting. Students need to ask the questions, push to know more than they read in the history books. We have so much information at our fingertips now to learn stories that aren't as well-known, to read about inventors and innovators. If students tell teachers their interests, I think that teachers will try to incorporate this more into their coursework…but schools need to support this."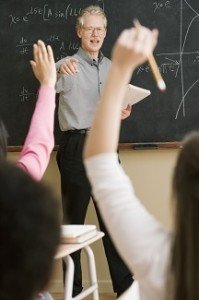 While curriculum is often planned well in advance, you have more control over classroom content than you think. As Schroeder mentioned above, students should reach beyond the resources provided in class and use their findings to propose lessons surrounding the untold stories in STEM. Touching upon the numerous contributions of STEM innovators whose stories are not often told, Barry reveals the educational resources available through NASA.
"There are many great stories in NASA history that haven't reached a wide audience yet. Why one story or another grabs the public attention seems to be more a matter of the skill of the writers (and Margot is quite skilled) than the historical significance or any other measure of the story.  We make our existing materials freely available online, so that any student or teacher can use it as they see fit."
Taking the initiative to research hidden women of color in STEM provides an education in history and will show your teacher that you're serious about these subjects. Whether researching pioneers such as the hidden women of color in STEM from "Hidden Figures," or recent heroes such as Mae C. Jemison and Aprille Ericsson, begin learning a more inclusive account of innovation history at home and in the classroom.